A Good Acoustic Environment
Many restaurant owners strive for an acoustic environment where their customers can have a quiet conversation along with enjoying their dining experience.  Today's restaurant designs usually include glass, brick or stone, marble or granite and drywall surfaces, all capable of creating adverse sound levels.
A recent Zagat Survey reviewed more than 15,000 restaurants across the nation. The survey showed that poor restaurant acoustics is the most common complaint amongst restaurant-goers.  More and more restaurants have adopted open kitchens and spacious floor plans only adding to the noise levels.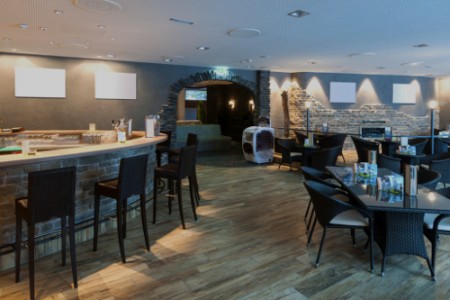 Pinnacle Acoustics knows, that to create that atmosphere, they have to create a good acoustic environment that reduces background noise while keeping a live atmosphere. We can solve your Restaurant & Bar acoustical issues. We have the resources and expertise to guide our clients to the quality sound they seek.
With our understanding of the acoustical requirements in these applications, combined with our extensive product offering, you have a trusted resource to help solve your acoustical challenges.
Call 412-482-6400 or complete the contact form by clicking here for a Free Consultation today.