At Pinnacle Acoustics, we know that the sound environment and noise control solutions deserve as much attention as other aspects of the building arts.  Our experience has shown us that sound offers limitless possibilities to enrich and enhance a multitude of experiences. We strive to deliver on our mission of personalized noise control solutions. With our guidance, new and renovated spaces can be designed with acoustics precisely tuned to the needs of the users. We can solve any sound issue: from a large scale project to a private office  soundproofing solution, and we are committed to providing excellent service to our customers. We offer a broad range of products and have the ability to offer turn-key solutions, including installation, as an option.
LEADING APPLICATIONS
We excel in the following applications: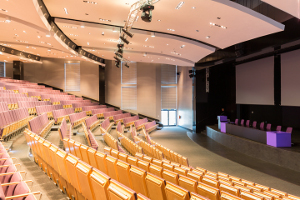 To learn more about each, you can either click on an application from the list above or use the drop-down menu.
We offer the best lines of acoustic soundproofing materials and architectural acoustic materials in the industry and we are experts at helping you design acoustical solutions that will solve your acoustical challenges.
Installers – CSI Code 09800 and 098400